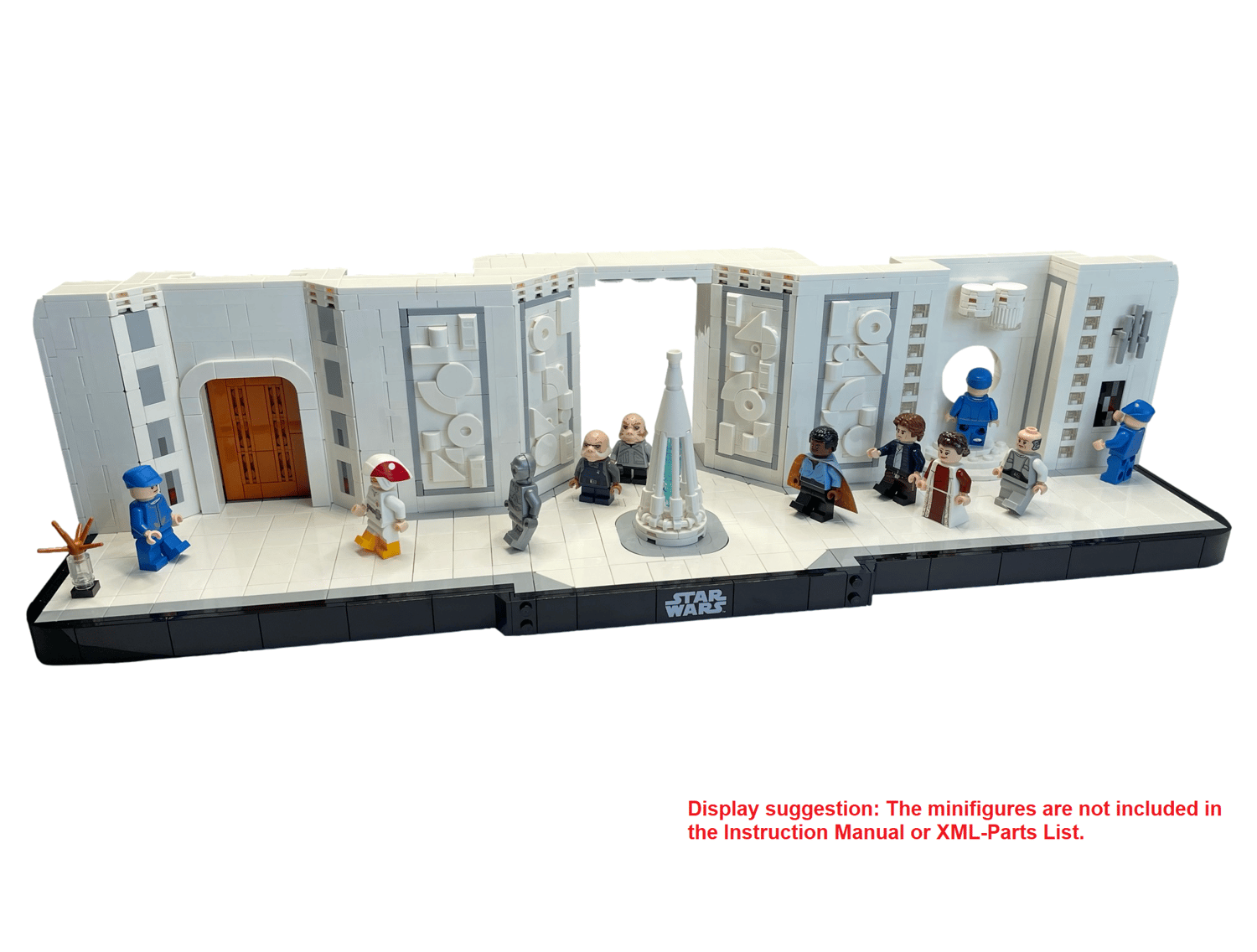 Bespin Cloud City Diorama MOC
On Sale
NO PHYSICAL PARTS INCLUDED – DIGITAL DOWNLOAD ONLY
Contents
The purchase includes the following digital files:
Instruction Manual (PDF file)
Parts List (XML file) 
Purchasing on BrickLink - Guidance (PDF file)
Description
Cloud City was a tibana gas mining colony floating in the clouds of the planet Bespin, located in the Anoat sector of the Outer Rim Territories. Shortly after the Battle of Hoth, Han, Leia, Chewie and C-3PO sought refuge in Cloud City on the run from Darth Vader...
This Diorama replicates several iconic parts within the upper buildings of Cloud City shown in
Star Wars
: The Empire Strikes Back.
Build a faithful LEGO® version of both the Entrance Hall and Main Corridor / Promenade
Features an opening entrance door, wall patterns, mural reliefs, angled walls, a tree sculpture, wall lights, chime art, a viewport, and one potted plant
Packed with authentic details and offering an immersive build, this diorama is the perfect way to display your LEGO® minifigs and relive your favorite scenes
The model is very sturdy and uses a great number of pieces to guarantee structural stability, and can easily be picked up
A black tiled front makes for a premium display including a printed 2x4 tile with Star Wars™ logo
---
Durability: Very sturdy build
Part Count: 1827 pieces
BrickLink Price: ~190€ | ~200$
Dimensions: Width 15 cm, length 51 cm, height 11 cm
Notes
The estimated parts cost above is based on average BrickLink orders. Please keep in mind prices tend to fluctuate on the brick-selling market.