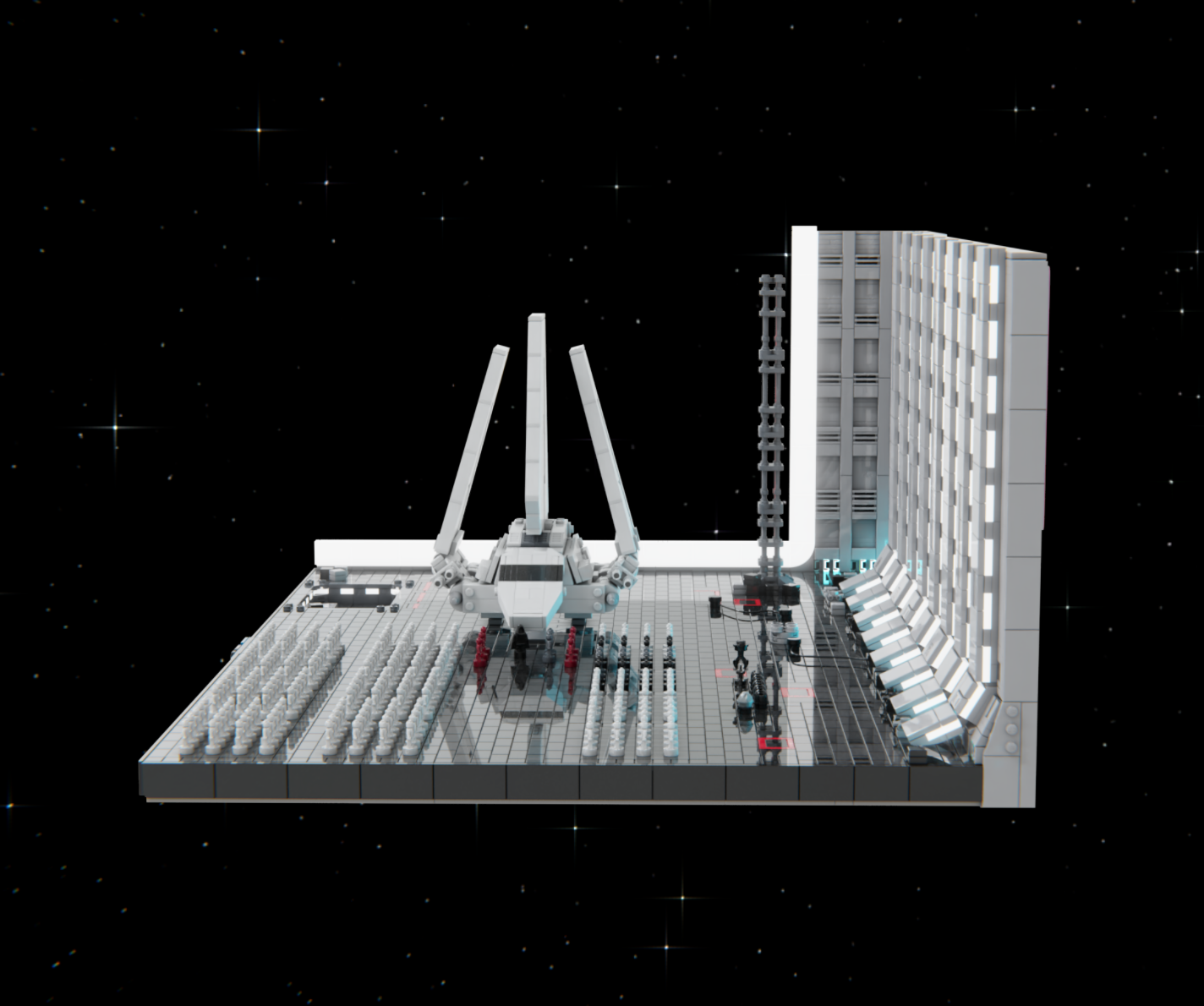 Mini-Scale Death Star II Hangar Bay 272 Diorama MOC
On Sale
NO PHYSICAL PARTS INCLUDED – DIGITAL DOWNLOAD ONLY
Contents
The purchase includes the following digital files:
Instruction Manual (PDF file)
Parts List (XML file) 
Purchasing on BrickLink - Guidance (PDF file)
Description
Designed to scale with nanofigs (statuettes)
Hidden in the Endor System and protected by a shield generator on the surface of the Forest Sanctuary Moon, the Executive Hangar Bay 272 aboard the Death Star II was in 4 ABY the setting for Emperor Palpatine's Arrival for his inspection on the Battlestation's operability …
This Diorama MOC depicts the Arrival of Emperor Sheev Palpatine in the Hangar Bay 272 aboard the Death Star II from
Star Wars
: Return of the Jedi.
The model features a cargo elevator shaft, a corner of the atmosphere containment projector ring, a gray steel beam with red piping, a total of 8 wall columns, accurate wall detailing, different cargo and cabling placed accurately throughout the entire build, and the floor is made from black 1x2 tiles which includes red markings
Including the following mini-scale statues: Emperor Palpatine, 6x Royal Guards, 11x Imperial Officers, 204x Stormtroopers, as well as 6x astromech droids and 1x viper droid
Blue stripes on the wall light up when backlit
The model can be separated into three modules for an easy transportation
A black and grey tiled front makes for a premium display
---
Durability: Very sturdy build
Part Count: 5403 pieces
BrickLink Price: ~580€ | ~600$
Dimensions: Width 44,5 cm, length 58 cm, height 26,5 cm
Addition
The Hangar Bay is designed to accommodate my
Mini-Scale Imperial Shuttle
model, for which I'm offering separate instructions
here
. 
Notes
The estimated parts cost above is based on average BrickLink orders. Please keep in mind prices tend to fluctuate on the brick-selling market.